Settings
Misc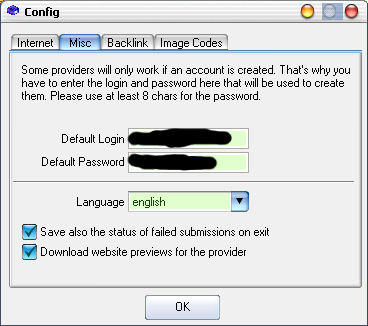 Here you choose the language of the program and define the default login/password to get used.
Download preview for providers: This tries to create a screenshot of the webpage when you click on a provider. That's not required at all and many people would like to disable it as its just useless bandwidth and only improved the GUI a bit.
---
Internet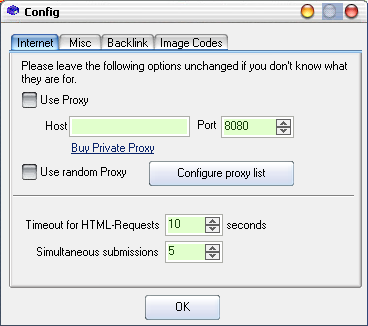 If your Internet connection requires to use a proxy, or if you want to use random proxies, you have to define them here.
The timeout for HTML-Requests will define when to gives up on a provider to wait for a reply.
Simultaneous submissions defines how many submissions are done at a time when using the automatic submission.
You should be careful with the two settings as to many submissions at the same time might slow down everything as to much bandwidth is used. The settings in the screenshot should be good for everyone.
---
Captchas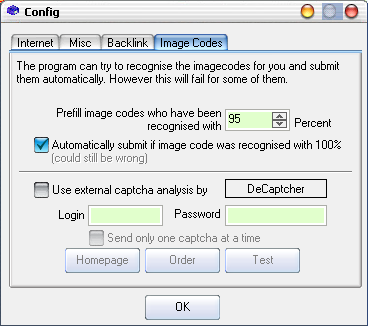 Captchas or image codes get displayed during the submission if the program was unable to fill them out automatically. Unfortunately it is very difficult nowadays to detect captchas without a human eye. Still it is possible to automate the things if you make usage of so called external captcha analysis. You can choose between many different systems. The most common one is probably DeCaptcher or our own software called GSA Captcha Breaker.