Options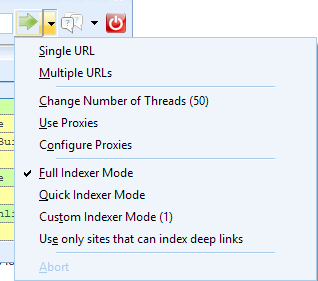 Options are accessible by clicking the down arrow button on the first button as seen in the picture above.
Single URL
Submits just the URL seen in the edit field

Multiple URLs

Opens a new dialog to index more than one URL at once

Change Number of Threads
The program can submit to more than one site at once. You can change the default number here from 10 to anything you like. Make sure you have the resources for it and not use too high numbers.

Use Proxies
Enables the use of proxies for the submission. This is not required and can be left unchecked for most users.

Full Indexer Mode
Submits to all sites known.

Quick Indexer Mode
Submits to about 500 random sites only instead of the nearly 5000.

Custom Indexer Mode
Submits to a set number of sites only.

Use only sited that can index deep links
This will send your URL to only those sites that accept deep links and not only the domain or root URL.