GSA SER (in progress)
Editor Note: This is becoming the new manual for GSA Search Engine Ranker, and hopefully answering every questions you have/had.
Introduction
This software is probably the most advanced SEO software you will ever find. It has many features that let you use it for any kind of SEO tasks coming with a lot in-build tools and options to choose from.
It's structure is very open, letting you script your own sites to submit to or modify existing data to make it the tool for your every-day-work.
Unfortunately SEO is no longer as easy as it used to be. Back in the year 2012 it was pretty much the same: Build as many links as possible to increase your search engine ranking. These days are over. Today it is more important to have quality and no duplicate content (articles with value as you can create with GSA Content Generator). Building links is still a main part of SEO as it used to be, but things have become more complicated. However, with our tool you have everything in your hands to make things easier again. We will help you with this manual to understand everything that this program offers.
On the tutorial you might often read about uncommon terms we use. They are very much known in the SEO community only and it can be a bit frustrating to not know what they stand for. For those of you who are new to SEO, please have a look on our little index that explains most of the SEO terms.
Main Screen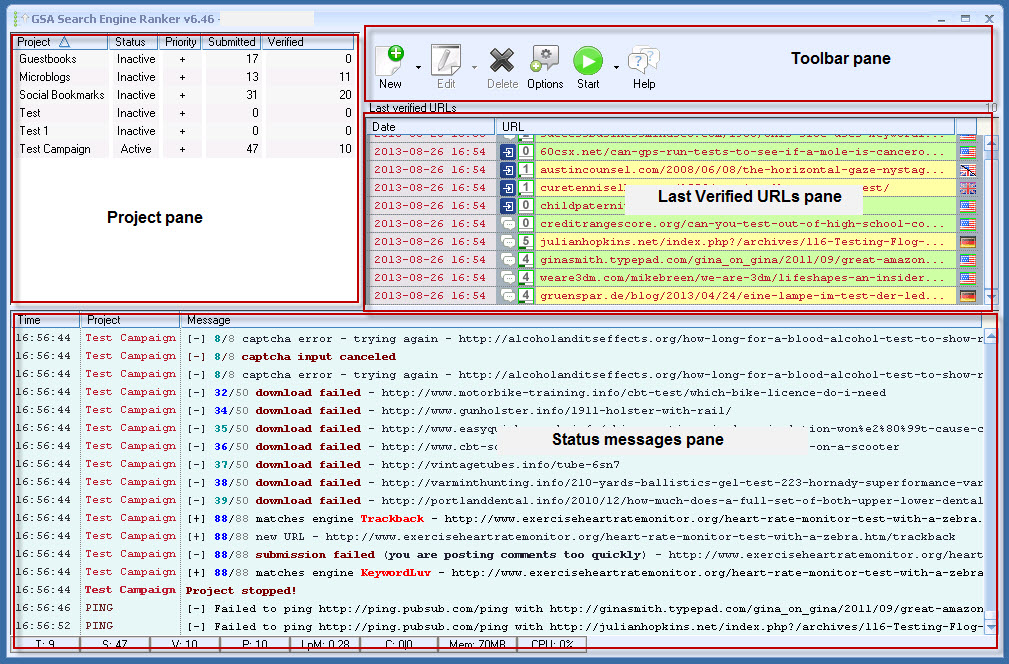 When you start the program, you will see the following screen which we call the main screen. It is separated in several areas we will explain now:
Project pane
A project is basically one SEO task for a website you have configured. You can do that for more than one website of course. You will see the listing of all your projects on the left box. The program can run more than one project at the same time.
Even though not seen in the screenshot, you can also create groups (right click on project - > modify project → create group …) to make categorization for your projects more easy. Also note that tier projects can not be moved as they will stick under the main project. A tier project is a project that is building links to previously created backlinks from another project. It's a well know SEO method that is still working very good.
There are different columns for the project listing showing:
Status - Which will indicate what the project is currently doing (e.g. submitting, verifying links or being on pause mode).

Priority - This is a setting that you can change to give certain projects more free resources than others (change by right click on project).

Submitted - Counts all the links submitted for this projects who are waiting verification. Once a link is verified, it is removed and the counter decreases. It can also decrease once the link is considered to never verify and the program simply no longer want to monitor it after having done that unsuccessfully for a longer time.

Verified - Counts the number of links the program was able to successfully verify. That counter can also decrease once a link is re-verified (project option) and was no longer available. This can happen if the link moved to a deeper page (e.g. on Guestbooks), was removed by website admin or the website itself no longer loads as expected.
Toolbar pane
This should be easy to understand but also holds some secrets.
The first button is creating new projects. When clicking the down arrow, you can reach previously created project templates that hold pre-configured settings for making things easier for you.
The second button will get let you edit the project options and the down arrow on it will be the same as the right click on a project which holds a lot options that we will have later reviewed.
The function of the delete button should be self explanatory.
The options button will gave you access to the global program options which will be explained later.
The Start/Stop button will start all projects who have Active as a status. Pressing the down button will give you access to the Scheduler which is very helpful when having a lot projects but limited resources to run them all at the same time.
The help button is giving you access to some online help just like this manual or the forum.
Last verified URLs pane
This is showing all the backlinks build by the program since start. On a fresh start you will see that this box is empty. But of course the links are still there saved by each project and accessible by right click on the project → Show URLs → Verified URLs.
You can right click on the header to also show the projects name column. A hint for each entry will show you details as well like (anchor text used, being no-follow or do-follow…).
Status messages pane
The log window at the bottom will usually scroll very fast when the projects are active. You might have to disable the log (right click on log) to review details.
Status bar
The status bar at the bottom will show some important things like:
T = Threads being active. A thread is one task that is performed (e.g. one submission to a site).

S = Number of sites submitted for today.

V = Number of sites verified for today.

LpM = Links per Minute - This can be switched by right clicking on that field and change it to: Verified-per-Minute or Downloads-per-Minute).

C = Number of captchas solved/failed. Hold your mouse over it for a detailed explanation.

P = Proxies that can be used. This is only visible when actually using proxies.

Mem = Amount of memory used by the program. Make sure it is not above 2.5GB as it is still a 32bit program that can not address all your available memory. We have been asked a lot why we are not changing it to 64bit. Well the answer might go into boring details but we think that 32bit is enough for everyone. At least we try to optimize our programs to not be that resource hungry.

CPU = Percentage of used CPU resources by the program. It really should not be above 20% most of the time.
Project Options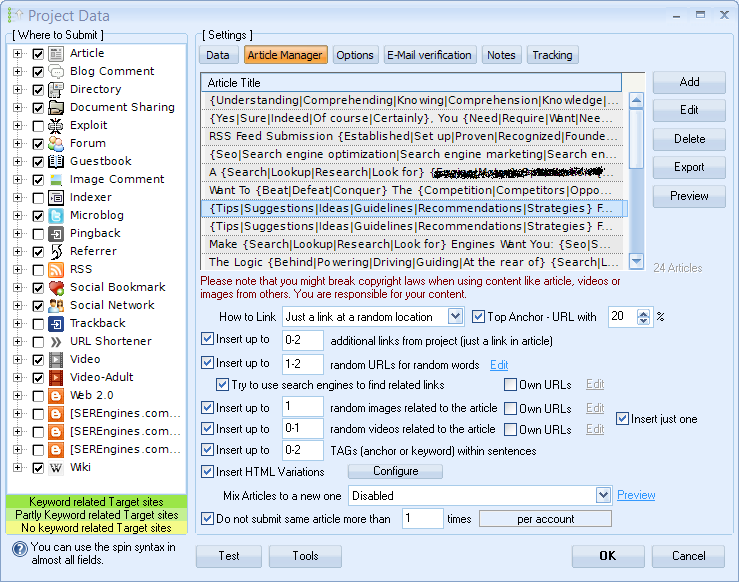 Once you create a new project, you will see all the project options. It is the same dialog as if you edit a project later on.
On the left you can choose on what types of sites you want your website be linked. Please see them as a platform and not fixed sites. The program itself does not have any websites included, but it has the ability to search for sites that are based on certain platforms where you can then submit to.
Platforms/Engines vs. Fixes Database of sites
This might sound like a disadvantage as you might know programs coming with a huge list of sites pre-installed. But we see it as the best feature really. Why? Because with pre-build lists of sites you often have them spammed to death and without any value if many people submit to them. Our program searches for matching sites based on your project keywords and will only build relevant links for you without the losing the sites to spammers.
Once you have selected categories or platforms/engines on the left, you will see different input fields and options. The Article-Manager or E-Mail Accounts will only show up once you select engines that require this. Please don't wonder why certain fields are not visible when you create a new project. It's all dynamic to not confuse you with options/settings that are not relevant for you.
DATA
Under the DATA Tab, you will find all the data that later is filling out the formulas on websites while submitting. Again, the amount of fields you see here depends on the engines/platforms you choose.
Options
Here you define the options on how to submit, verify, search for new targets or filter them out.
Article Manager
This allows you to define more than one article and how to place links in the article. It is extremely important to have readable and related content to the project's keyword you want to rank for. Many options under this dialog will help you to get to that goal.
E-Mail Accounts
Many sites require you to verify the registration by links sent to your e-mail. You can define more than one e-mail here in case you plan to create more than one account per site (not recommended). You can also check if e-mail accounts still work (login accepted) or if they are on some black-list already.
External APIs
You can define other, external APIs here to let the program e.g. check for your ranking, import verified URLs from other sources that the program didn't build and many things more.
Notes
Here you can write yourself some notes on the projects aim, history or your to-do list.