Settings
There are not really a lot settings for the program to change. However we will go through all of them here.
Misc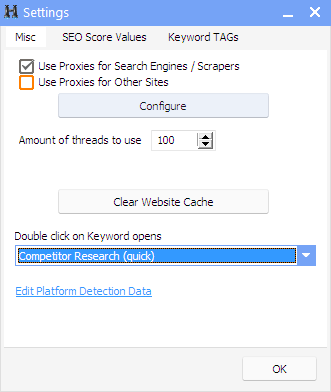 Proxies
The first two options let you define the proxy usage. It comes with the ability to use proxies for search engines and other sites. The Configure button will let you setup all your proxies or ways to scrape free proxies. That interface for proxy settings is the same as seen in all GSA Products.
Amount of threads
Some tasks can be a bit time consuming. Doing more than one of these tasks (or threads) at a time can speed things up dramatically. The amount of simultaneous tasks/threads is a lot depending on your CPU and power of your PC in general. Usually it's OK to use 100 threads or even more but you might want to start with 10 just to be safe.
Clear Website Cache
It often makes sense to save certain website's content for later use when scraping for keywords or analyzing SEO factors. This cache is also cleared automatically but it can grow to a lot of space that you might want to clear manually here. However, it's safe to keep it as it is and not touch this. The cache is cleared from data not required the last 5 days.
Double click on Keyword Opens
Certain new reports will be generated and opened for you when you double click on a keyword. You can define what should open here. Of course you can still open all the other tools by right click from the popup menu.
Edit Platform Detection Data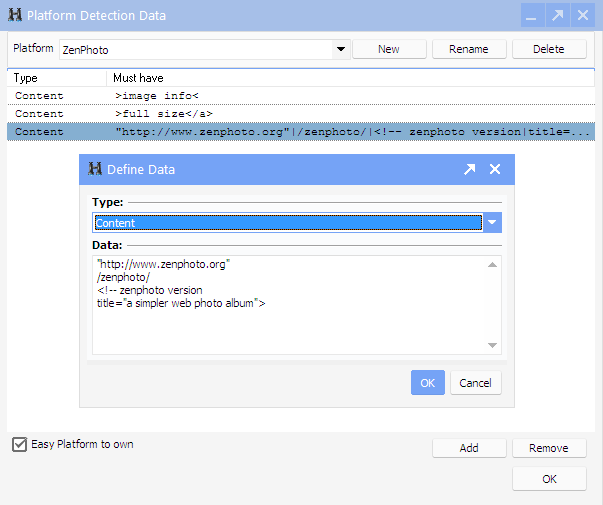 Sometimes it's important to know what platform was used for a webpage because certain platforms like Forums can be easily owned when trying to rank for a keyword. The software comes with many 1000's of pre-defined platform definitions but you can of course alter or add your own definitions here as well.
SEO Score Values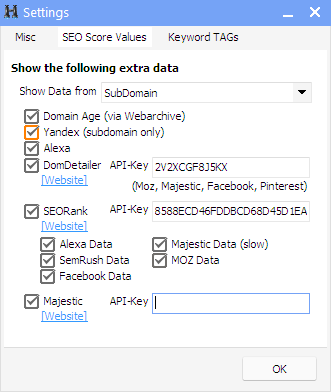 It's important to show certain values for websites when analyzing the keyword competition. You can define what to show in addition here. Some values will require you to have an API-Key from certain services but this is not required to get valuable data for your analysis, it helps however to spot potential keywords.
Keyword TAGs