Unique and Readable Content
With the help of the service Perfect Tense it is possible to create perfectly readable articles in an easy way.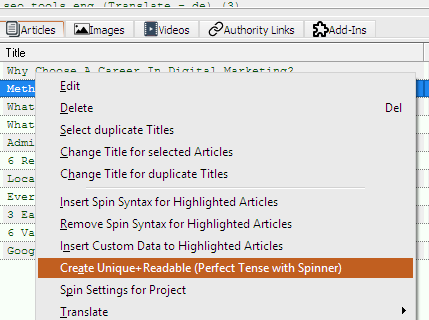 When you scraped articles with the algorithm "Same Article", it might be readable but also would be duplicate content if you put it online.
When adding spin syntax to it it might pass most of the duplicate content filters but might not sound natural when read by humans (at least not 100%).
You can fix this all by using the function seen on the screenshot above. It will insert spin syntax to the article, create a random variation of it, use Perfect Tense to correct errors and optionally insert spin syntax back in.
This procedure could obviously be done yourself in many steps, but this all-in-one tool will help you to quickly create the output you need.